OVERVIEW: The 1500P and 4000P Servies smaller power rewind hose reels are the best quality available. Power can be electric (12V DC and 115V AC), hydraulic, or compressed air, with electric shown below (both 12V DC and 115V AC, with switch and solonoid) with pricing for quick purchase. The models range from 3/8" to 1" diameter hoses in this group, and 3/4" to 3" here. You can't buy a better reel!
FEATURES:
Lightweight and Compact for Long Hose Lengths

Chain & Sprocket Drives are powered by Electric, Hydraulic or Air Motors

Top Quality Components and Coatings

Higher Pressures of 3,000psi for the 1500P Series, and 2,000psi for the 4000P Series
The table below shows standard configurations for purchase. See the Submittal Sheets for additional details and options.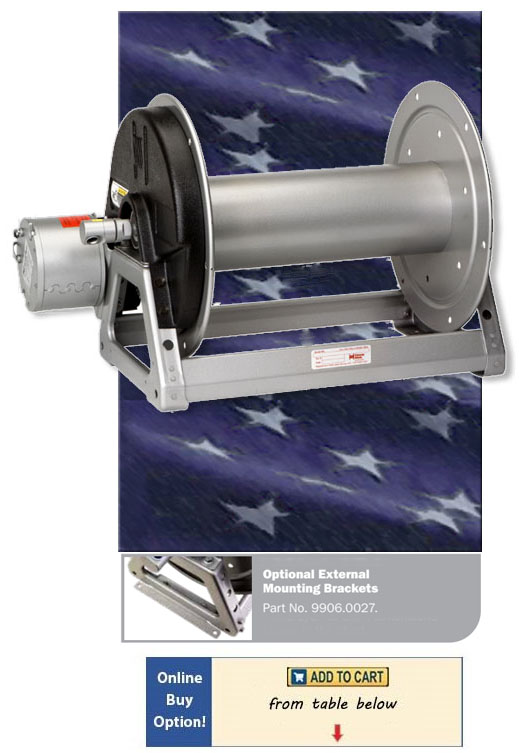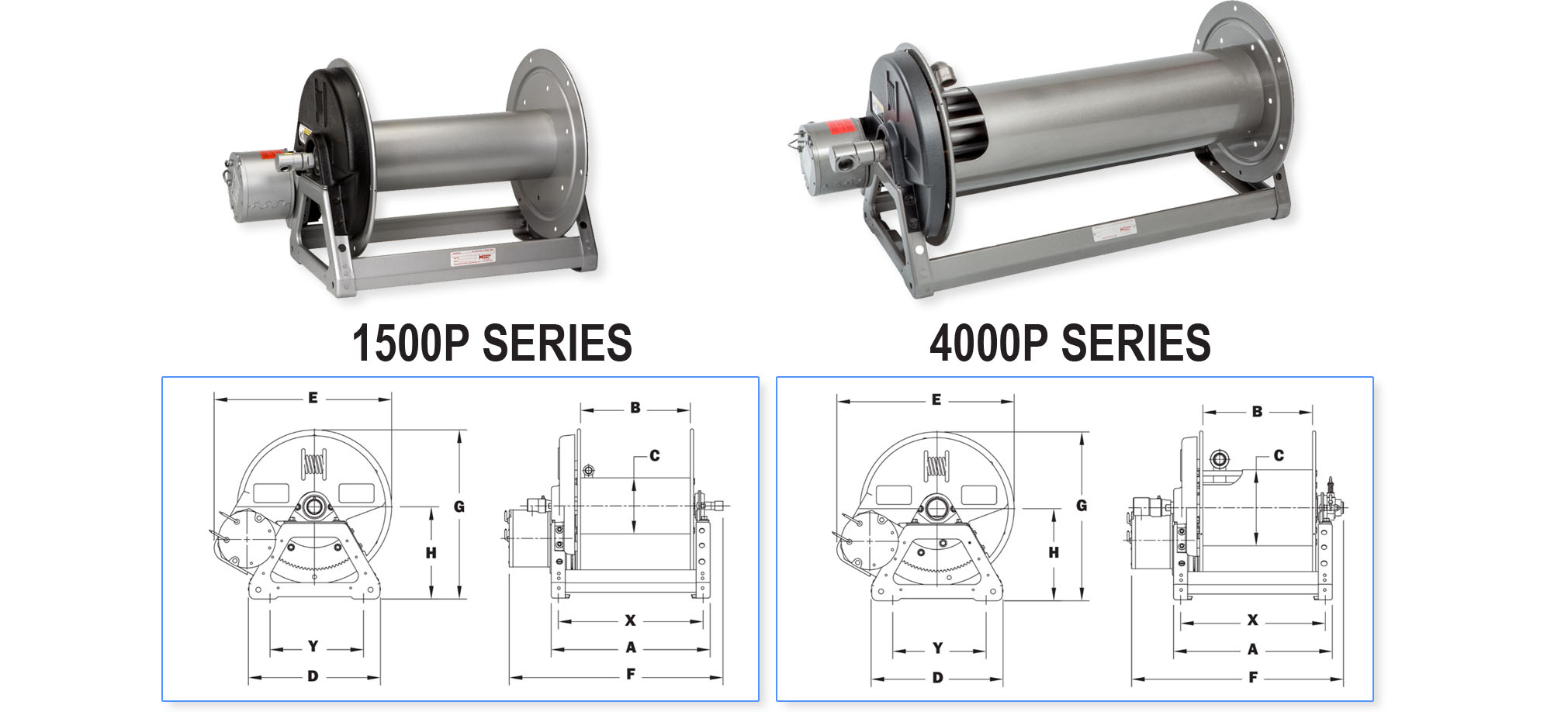 scroll to see more products
NAME
TYPE
INLET

(in)

OUTLET

(in)

CAPACITY

(ft)

A
B
C
D
E
F
G
H
WT

(lbs)

DIM WT

(lbs)

P/N
PRICE

($)

1500 SERIES
12V DC ELECT
1/2" FEM NPT
1/2" FEM NPT
3/8"-125', 5/8"-50'
11
6
6.00
14.12
19.25
19.25
18.12
9.88
45
65
HR-E1514-17-18
$1,083.95
Add to Cart
1500 SERIES
12V DC ELECT
1/2" FEM NPT
1/2" FEM NPT
3/8"-275', 5/8"-125'
17
12
6.00
14.12
19.00
23.00
18.12
9.88
47
80
HR-E1520-17-18
$1,083.95
Add to Cart
1500 SERIES
12V DC ELECT
1/2" FEM NPT
1/2" FEM NPT
3/8"-400', 5/8"-200'
23
18
6.00
14.12
19.00
29.00
18.12
9.88
50
98
HR-E1526-17-18
$1,083.95
Add to Cart
1500 SERIES
12V DC ELECT
1/2" FEM NPT
1/2" FEM NPT
1/2"-375', 5/8"-275'
27
22
6.00
9.88
19.00
33.00
18.12
9.88
51
110
HR-E1530-17-18
$1,083.95
Add to Cart
1500 SERIES
12V DC ELECT
1/2" FEM NPT
1/2" FEM NPT
1/2"-475', 5/8"-350'
33
28
6.00
9.88
19.00
39.00
18.12
9.88
53
129
HR-E1536-17-18
$1,083.96
Add to Cart
1500 SERIES
115V AC ELECT
1/2" FEM NPT
1/2" FEM NPT
3/8"-125', 5/8"-50'
11
6
6.00
14.12
19.25
19.25
18.12
9.88
45
65
HR-E1514-17-18-115V
$1,210.30
Add to Cart
1500 SERIES
115V AC ELECT
1/2" FEM NPT
1/2" FEM NPT
3/8"-275', 5/8"-125
17
12
6.00
14.12
19.00
23.00
18.12
9.88
47
80
HR-E1520-17-18-115V
$1,210.30
Add to Cart
1500 SERIES
115V AC ELECT
1/2" FEM NPT
1/2" FEM NPT
3/8"-400', 5/8"-200'
23
18
6.00
14.12
19.00
29.00
18.12
98.00
50
98
HR-E1526-17-18-115V
$1,210.30
Add to Cart
1500 SERIES
115V AC ELECT
1/2" FEM NPT
1/2" FEM NPT
1/2"-375', 5/8"-275
27
22
6.00
9.88
19.00
33.00
18.12
9.88
51
110
HR-E1530-17-18-115V
$1,210.30
Add to Cart
1500 SERIES
115V AC ELECT
1/2" FEM NPT
1/2" FEM NPT
1/2"-475', 5/8"-350'
33
28
6.00
9.88
19.00
39.00
18.12
9.88
53
129
HR-E1536-17-18-115V
$1,210.24
Add to Cart
4000 SERIES
12V DC ELECT
1" FEM NPT
1" FEM NPT
3/4"-50', 1"-35'
15
10
8.00
14.12
19.00
20.75
18.12
9.88
54
80
HR-E4018-17-18
$1,303.40
Add to Cart
4000 SERIES
12V DC ELECT
1" FEM NPT
1" FEM NPT
3/4"-100', 1"-50'
21
16
8.00
14.12
19.00
26.75
18.12
9.88
64
98
HR-E4024-17-18
$1,303.40
Add to Cart
4000 SERIES
12V DC ELECT
1" FEM NPT
1" FEM NPT
3/4"-150', 1"-75'
27
22
14.12
19.00
19.00
32.75
18.12
9.88
75
110
HR-E4030-17-18
$1,303.40
Add to Cart
4000 SERIES
12V DC ELECT
1" FEM NPT
1" FEM NPT
3/4"-200', 1"-100'
15
30
8.00
14.12
19.00
40.75
18.12
9.88
88
HR-E4038-17-18
$1,303.40
Add to Cart
4000 SERIES
115V AC ELECT
1" FEM NPT
1" FEM NPT
3/4"-50', 1"-35'
15
10
8.00
14.12
19.00
20.75
18.12
9.88
54
80
HR-E4018-17-18-115V
$1,429.75
Add to Cart
4000 SERIES
115V AC ELECT
1" FEM NPT
1" FEM NPT
3/4"-100', 1"-50'
21
16
8.00
14.12
19.00
26.75
18.12
9.88
64
98
HR-E4024-17-18-115V
$1,429.75
Add to Cart
4000 SERIES
115V AC ELECT
1" FEM NPT
1" FEM NPT
3/4"-150', 1"-75'
27
22
14.12
19.00
19.00
32.75
18.12
9.88
75
110
HR-E4030-17-18-115V
$1,429.75
Add to Cart
4000 SERIES
115V AC ELECT
1" FEM NPT
1" FEM NPT
3/4"-200', 1"-100'
15
30
8.00
14.12
19.00
40.75
18.12
9.88
88
HR-E4038-17-18-115V
$1,429.75
Add to Cart