Overview: The Model SI3 is a stripwound interlocked stainless steel hose with a smooth bore for ideal material handling. It is relatively lightweight but tough. A special liner is used for creating the smooth bore.
Features:
Liner makes for smooth bore for material handling.

Relatively lightweight and very abrasive resistant.

Standard fittings attached with high strength epoxy, or with optional welded fittings.

1500F possible.
Applications:
Abrasive Bulk Material Handling Requiring a Smooth Bore

Up to 400F Applications with Standard Epoxy Fittings, and Up to 1500F with No Fittings or Optional Welded Fittings
Temperature: -50F to 1500F (400F with standard epoxy fittings)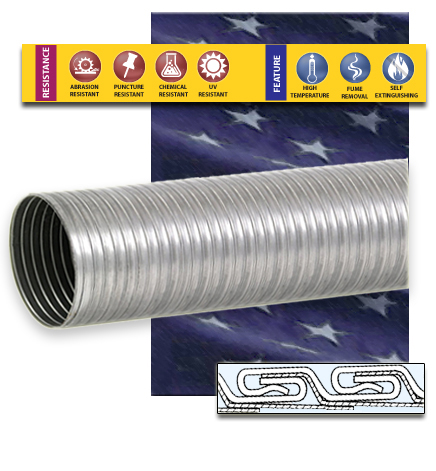 scroll to see more products
Dia

(in)

Bend R

(in)

Note
Wt/Ft

(lbs)

Lead Time

(days)

1 1/2
9.2
ARMOR .015", LINER .015"
1.29
8
1 3/4
11.5
ARMOR .015", LINER .015"
1.50
8
2
13.0
ARMOR .015", LINER .015"
1.71
8
2 1/4
14.5
ARMOR .015", LINER .015"
1.91
8
2 1/2
15.0
ARMOR .015", LINER .015"
2.12
8
3
18.0
ARMOR .015", LINER .015"
2.52
8
3 1/2
18.6
ARMOR .015", LINER .015"
2.93
8
4
19.1
ARMOR .015", LINER .015"
3.35
8
4 1/2
24.8
ARMOR .018", LINER .015"
4.21
10
5
27.2
ARMOR .018", LINER .015"
4.81
10
6
31.5
ARMOR .018", LINER .015"
5.62
10
7
32.6
ARMOR .018", LINER .015"
6.55
10
8
36.3
ARMOR .018", LINER .015"
7.75
10
10
50.2
ARMOR .018", LINER .018"
9.75
10
2 3/4
15.9
ARMOR .015", LINER .015"
2.31
8
12
47.0
ARMOR .018", LINER .018"
12.48
10
14
55.0
ARMOR .018", LINER .018"
14.54
10
16
62.5
ARMOR .018", LINER .018"
16.56
10