Overview: The Model RN2 is an EPDM rubber suction hose with a polyethylene external helix that provides for easy dragging, and it has a smooth bore.
Here it is made available for quick purchase with popular NPSH MxF (male x female swivel) thread fittings for 1" to 6" diameters in 20ft lengths. Also avaialble here with alumuminum CxE cam & groove fittings.
Commonly provided with cam and groove, threaded, flanged, and other fittings.
Features:
Lightweight Compared to Other Rubber Suction Hoses

Easy to Drag

Economical

Smooth Bore
Applications:
For Many Industrial and Construction Suction Applications

Liquid Waste, Septic Handling, Sewage, Agricultural, and Marine Applications
Temperature: -40F to 158F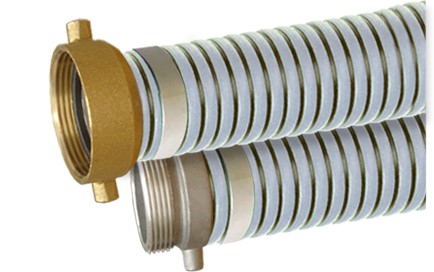 scroll to see more products
Dia

(in)

Outer Dia

(in)

Lngth-ft

(ft)

Fittings
Pres

(psi)

Bend R

(in)

Wt

(lbs)

Product No
Wt/Ft

(lbs)

Price

($)

Lead Time

(days)

1 1/2
1.96
20
NPSH M X F SW
50
6
11.1
HOSE-RN2AS20MF0150
0.49
$112.60
2
Add to Cart
2
2.49
20
NPSH M X F SW
50
9
15.2
HOSE-RN2AS20MF0200
0.69
$143.90
2
Add to Cart
3
3.60
20
NPSH M X F SW
50
12
26.5
HOSE-RN2AS20MF0300
1.21
$248.50
2
Add to Cart
4
4.69
20
NPSH M X F SW
45
17
41.6
HOSE-RN2AS20MF0400
1.83
$426.40
2
Add to Cart