Overview: The Model PM1 is a lightweight and flexible PVC multipurpose hose that is reinforced with multiple textile spirals. Available in full reels only, 1/4" to 2" diameters.
Features:
Smooth Cover that Resists Abrasion when Dragged

Easily Cleaned

Economical

Weighs Considerably Less than Rubber Alternatives
Applications:
Water and Air

Mild Water-Soluble Chemicals in Industry and Construction
Temperature: -10F to 150F.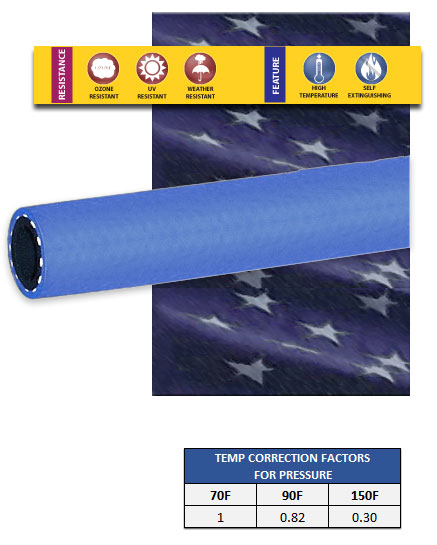 scroll to see more products
Dia

(in)

Outer Dia

(in)

Lngth-ft

(ft)

Pres

(psi)

Wt

(lbs)

Product No
Wt/Ft

(lbs)

Price

($)

Lead Time

(days)

1/4
0.450
750
300
45
HOSE-PM1
0.06
$525.00
3
Add to Cart
3/8
0.600
750
300
68
HOSE-PM1
0.09
$585.00
3
Add to Cart
1/2
0.780
750
250
113
HOSE-PM1
0.15
$1,140.00
3
Add to Cart
5/8
0.940
500
250
100
HOSE-PM1
0.20
$1,100.00
3
Add to Cart
3/4
1.110
450
250
140
HOSE-PM1
0.28
$1,107.00
3
Add to Cart
1
1.312
400
200
148
HOSE-PM1
0.37
$1,416.00
3
Add to Cart
1 1/4
1.687
100
200
52
HOSE-PM1
0.52
$0.00
3
Add to Cart
1 1/2
1.937
100
200
61
HOSE-PM1
0.61
$0.00
3
Add to Cart
2
2.510
100
125
91
HOSE-PM1
0.91
$0.00
3
Add to Cart