Overview: The Model PM1-AS is a high quality, lightweight and flexible TPE (thermoplastic elastomer) multipurpose air hose, mainly used for compressed air to pneumatic tools and equipment. Available as 25, 50, and 100ft assemblies, in 1/4", 3/8", and 1/2" diameters, with brass NPT thread ends that can be purchased below. Also available in red, with custom fittings and lengths, and in full reels.
Features:
Performs Well in Cold Temperautres, unlike PVC

Weighs Consideragly Less than Rubber Alternatives

RMA Class B for Medium Oil Resistance, unlike PVC

Smooth Cover that Resists Abrasion when Dragged

Easily Cleaned & Non-Marking
Applications:
Compressed Air for Pneumatic Tools and Equipment

Water
Temperature: -40F to 158F.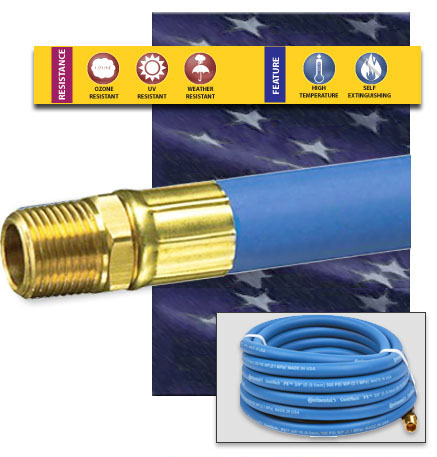 scroll to see more products
Dia

(in)

Lngth-ft

(ft)

Fittings
Pres

(psi)

Wt

(lbs)

Product No
Wt/Ft

(lbs)

Price

($)

Lead Time

(days)

1/4
25
1/4 BRASS MALE X 1/4 BRASS MALE
300
4
HOSE-PM1ASBLU25MM0025
0.06
$28.80
3
Add to Cart
1/4
50
1/4 BRASS MALE X 1/4 BRASS MALE
300
5
HOSE-PM1ASBLU50MM0025
0.06
$46.80
3
Add to Cart
1/4
100
1/4 BRASS MALE X 1/4 BRASS MALE
300
8
HOSE-PM1ASBLU100MM0025
0.06
$83.26
3
Add to Cart
3/8
25
3/8 BRASS MALE X 3/8 BRASS MALE
300
5
HOSE-PM1ASBLU25MM0038
0.09
$33.30
3
Add to Cart
3/8
50
3/8 BRASS MALE X 3/8 BRASS MALE
300
7
HOSE-PM1ASBLU50MM0038
0.09
$53.10
3
Add to Cart
3/8
100
3/8 BRASS MALE X 3/8 BRASS MALE
300
12
HOSE-PM1ASBLU100MM0038
0.09
$94.06
3
Add to Cart
1/2
25
1/2 BRASS MALE X 1/2 BRASS MALE
300
5
HOSE-PM1ASBLU25MM0050
0.16
$58.50
3
Add to Cart
1/2
50
1/2 BRASS MALE X 1/2 BRASS MALE
300
10
HOSE-PM1ASBLU50MM0050
0.16
$98.56
3
Add to Cart
1/2
100
1/2 BRASS MALE X 1/2 BRASS MALE
300
17
HOSE-PM1ASBLU100MM0050
0.16
$177.76
3
Add to Cart