OVERVIEW: The Flextra 150 rubber spool type expansion joints are an important alternative for diameters between 2" and 24".
They have a wide arch for greater movements, and are available in butyl and EPDM rubbers.
Control rod units are optional, and may be critical based on the application.
FEATURES:

Robust design with integral rubber flanges for secure connections

Available in butyl or EPDM rubber elastomers from stock

Available with optional control unit tie rods to prevent overextension

Moves in both axial and lateral offset directions
Any lower temperature systems requiring thermal expansion, settlement, or other movement where chemically compatible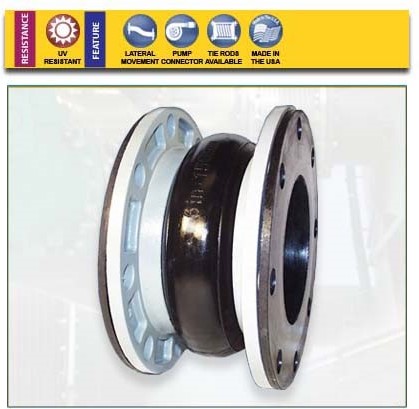 See the full line of Flexicraft Industries rubber expansion joints here.
scroll to see more products
NAME
MTL
DIA

(in)

LNGTH

(in)

PRES

(psi)

INLET

(in)

WT

(lbs)

P/N
PRICE

($)

2" X 6" FLEXTRA 150 EXP JOINT
EPDM RUBBER
2"
6"
150
150# FLANGE
5.5
FLX150BB0200
$378.00
Add to Cart
2 1/2" X 6" FLEXTRA 150 EXP JT
EPDM RUBBER
2 1/2"
6"
150
150# FLANGE
7.5
FLX150BB0250
$404.00
Add to Cart
3" X 6" FLEXTRA 150 EXP JOINT
EPDM RUBBER
3"
6"
150
150# FLANGE
8.5
FLX150BB0300
$438.00
Add to Cart
4" X 6" FLEXTRA 150 EXP JOINT
EPDM RUBBER
4"
6"
150
150# FLANGE
10.0
FLX150BB0400
$496.00
Add to Cart
5" X 6" FLEXTRA 150 EXP JOINT
EPDM RUBBER
5"
6"
150
150# FLANGE
12.5
FLX150BB0500
$558.00
Add to Cart
6" X 6" FLEXTRA 150 EXP JOINT
EPDM RUBBER
6"
6"
150
150# FLANGE
16.5
FLX150BB0600
$608.00
Add to Cart
8" X 6" FLEXTRA 150 EXP JOINT
EPDM RUBBER
8"
6"
150
150# FLANGE
22.0
FLX150BB0800
$770.00
Add to Cart
10" X 8" FLEXTRA 150 EXP JOINT
EPDM RUBBER
10"
8"
150
150# FLANGE
34.0
FLX150BB1000
$1,087.00
Add to Cart
12" X 8" FLEXTRA 150 EXP JOINT
EPDM RUBBER
12"
8"
150
150# FLANGE
45.0
FLX150BB1200
$1,396.00
Add to Cart
14" X 8" FLEXTRA 150 EXP JOINT
EPDM RUBBER
14"
8"
130
150# FLANGE
55.0
FLX150BB1400
$1,971.00
Add to Cart
16" X 8" FLEXTRA 150 EXP JOINT
EPDM RUBBER
16"
8"
110
150# FLANGE
64.0
FLX150BB1600
$2,264.00
Add to Cart
18" X 8" FLEXTRA 150 EXP JOINT
EPDM RUBBER
18"
8"
110
150# FLANGE
71.0
FLX150BB1800
$2,517.00
Add to Cart
20" X 8" FLEXTRA 150 EXP JOINT
EPDM RUBBER
20"
8"
110
150# FLANGE
82.0
FLX150BB2000
$3,014.00
Add to Cart
24" X 10" FLEXTRA 150 EXP JNT
EPDM RUBBER
24"
10"
100
150# FLANGE
102.0
FLX150BB2400
$3,313.00
Add to Cart