OVERVIEW: The Bellows Connector metal expansion joint is kept stocked with 150# C/S flanges and tie rods. Although it only comes in one configuration, it is an economical choice, and appropriate for many applications.
It uses vanstone 150# flanges, keeping all the wetted parts stainless steel, and has tie rods standard. Any special can also be made.
FEATURES:

Kept in stock

Economical

Comes standard with tie rods and 150# CS vanstoned flanges that allow all stainless steel wetted parts

APPLICATIONS:
Flexible equipment connection when higher temperatures and compression movement is required

Thermal expansion of piping
TEMPERATURE: to 480°F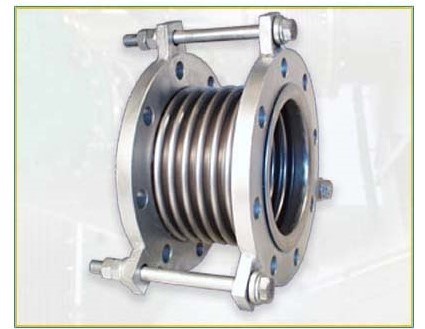 See a full line of Metal Expansion Joints from Flexicraft Industries here.
scroll to see more products
NAME
DIA

(in)

LNGTH

(in)

PRES

(psi)

INLET

(in)

NOTE
WT

(lbs)

P/N
PRICE

($)

2X6 BELLOW EXP JNT 150#FF FLGS
2
6
150
150# FLTG FLANGES
1" COMPR
12
BCON0200
$288.00
Add to Cart
2.5X6 BELLOW EXPJNT 150#FF FLG
2 1/2
6
150
150# FLTG FLANGES
1" COMPR
16
BCON0250
$377.00
Add to Cart
3X6 BELLOWS EXPJNT 150#FF FLGS
3
6
150
150# FLTG FLANGES
1" COMPR
18
BCON0300
$520.00
Add to Cart
4X6 BELLOWS EXPJNT 150#FF FLGS
4
6
150
150# FLTG FLANGES
1" COMPR
28
BCON0400
$648.00
Add to Cart
5X6 BELLOWS EXPJNT 150#FF FLGS
5
6
150
150# FLTG FLANGES
1" COMPR
34
BCON0500
$781.00
Add to Cart
6X6 BELLOWS EXPJNT 150#FF FLGS
6
6
150
150# FLTG FLANGES
1" COMPR
43
BCON0600
$934.00
Add to Cart
8X6 BELLOWS EXPJNT 150#FF FLGS
8
6
150
150# FLTG FLANGES
1" COMPR
63
BCON0800
$1,363.00
Add to Cart
10X8 BELLOW EXPJNT 150#FF FLGS
10
8
150
150# FLTG FLANGES
1.4" COMPR
93
BCON1000
$1,695.00
Add to Cart
12X8 BELLOW EXPJNT 150#FF FLGS
12
8
150
150# FLTG FLANGES
1.4" COMPR
120
BCON1200
$2,294.00
Add to Cart
14X8 BELLOW EXPJNT 150#FF FLGS
14
8
150
150# FLTG FLANGES
1.4" COMPR
180
BCON1400
$2,723.00
Add to Cart