OVERVIEW: This grouping of top quality hose reels is specific for compressed air hoses in diameters between 1/4" and 1". Spring rewind, manual rewind, and power rewind options are all included for various capacities. These hose reels are ideal for power tools, air compressor hose, construction sites, automotive needs, and much more. You can't buy a better reel!
The top choices are shown in their standard configurations in the table below, and can be purchased online. The spring rewind hose reels can also be optionally purchased with rubber air hoses and stops already installed. See the Submittal Sheets for detailed information on each model, and for additional choices. Contact factory to order with any option.
For other air hose ready assemblies with NPT threads or Universal ends to combine with these hose reels, see our PM1-AS TPE, RM2-ASM Rubber, RM2-ASU Rubber, and RM3-AS Rubber air hoses.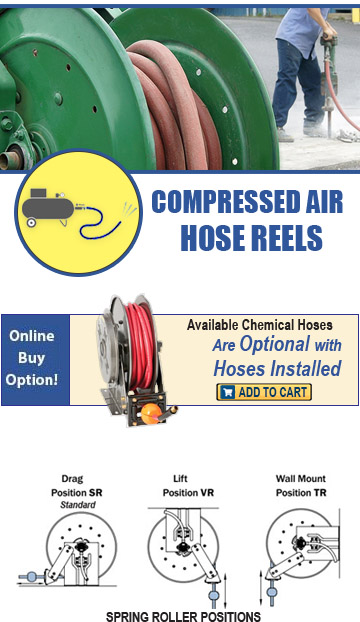 scroll to see more products
NAME
TYPE
PRES

(psi)

INLET

(in)

OUTLET

(in)

CAPACITY

(ft)

WT

(lbs)

DIM WT

(lbs)

P/N
PRICE

($)

(REEL ONLY)
SPRING
3000
1/2" FEM NPT
1/2" FEM NPT
1/4"-100', 1/2"-65'
94
101
HR-N716-19-20-10.5G
$771.40
Add to Cart
WITH 3/8 X 50 HOSE
SPRING
3000
1/2" FEM NPT
1/2" FEM NPT
[WITH 3/8 X 50 HOSE]
110
HR-N716-19-20-10.5J100038
$897.76
Add to Cart
WITH 1/2 X 50 HOSE
SPRING
3000
1/2" FEM NPT
1/2" FEM NPT
[WITH 1/2 X 50 HOSE]
120
HR-N716-19-20-10.5J050050
$931.00
Add to Cart
(REEL ONLY)
SPRING
3000
1/2" FEM NPT
1/2" FEM NPT
3/8"-75', 1/2"-65'
96
HR-N718-25-26-15G
$1,110.56
Add to Cart
WITH 3/8 X 100 HOSE
SPRING
3000
1/2" FEM NPT
1/2" FEM NPT
[WITH 3/8 X 100 HOSE
125
HR-N718-25-26-15G100038
$1,369.90
Add to Cart
WITH 1/2 X 100 HOSE
SPRING
3000
1/2" FEM NPT
1/2" FEM NPT
[WITH 1/2 X 100 HOSE
135
HR-N718-25-26-15G100050
$1,416.46
Add to Cart
(REEL ONLY)
SPRING
3000
1" FEM NPT
1" FEM NPT
3/4"-50', 1"-25'
87
HR-N818-23-24-10.5J
$988.20
Add to Cart
WITH 3/4 X 50 HOSE
SPRING
3000
1" FEM NPT
1" FEM NPT
[WITH 3/4 X 50 HOSE]
105
HR-N818-23-24-10.5J050075
$1,250.20
Add to Cart
(REEL ONLY)
SPRING
3000
1" FEM NPT
1" FEM NPT
3/4"-70', 1"-50'
102
HR-N818-25-26-10.5B
$1,260.84
Add to Cart
WITH 1 X 50 HOSE
SPRING
3000
1" FEM NPT
1" FEM NPT
[WITH 1 X 50 HOSE]
150
HR-N818-25-26-10.5B050100
$1,635.90
Add to Cart
(REEL ONLY)
MANUAL
3000
1/2" FEM NPT
3/8" FEM NPT
1/4"-150', 1/2"-70'
24
42
HR-1016-14-16
$352.46
Add to Cart
(REEL ONLY)
MANUAL
3000
1/2" FEM NPT
1/2" FEM NPT
3/8"-125', 5/8"-50'
27
65
HR-1514-17-18
$452.20
Add to Cart
(REEL ONLY)
AIR
3000
1/2" FEM NPT
1/2" FEM NPT
3/8"-175', 1/2"-125'
50
100
HR-A1516-17-18
$1,343.30
Add to Cart
(REEL ONLY)
ELECTRIC
3000
1/2" FEM NPT
1/2" FEM NPT
3/8"-175', 1/2"-125'
50
100
HR-E1516-17-18
$1,083.96
Add to Cart
(REEL ONLY)
ELECTRIC
2000
1" FEM NPT
3/4" FEM NPT
5/8"-150', 3/4"-100'
50
118
HR-E1822-17-18
$1,190.36
Add to Cart
(REEL ONLY)
ELECTRIC
2000
1" FEM NPT
1" FEM NPT
3/4"-200', 1"-100'
81
HR-E4038-17-18
$1,303.40
Add to Cart