Overview: The Model SU1 is an unbraided corrugated stainless steel metal hose that can be used at lower pressures. For higher pressures, see the braided metal hoses options.
Features:
Available with a wide variety of carbon or stainless steel fittings that are welded to the hose.

Resistant to failure even under accidental exposure to flame.

Quite flexible and resistant to vibration.

Applications:

Liquid and gas transfer at high temperatures and lower pressures.
Temperature: -320F to 1500F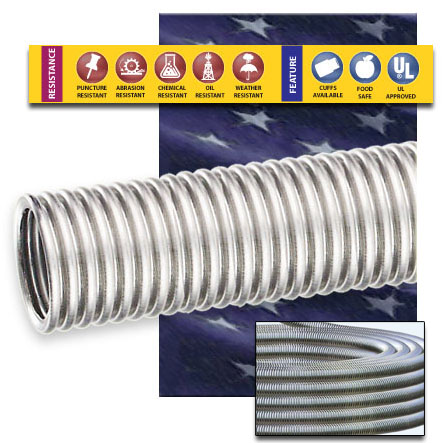 scroll to see more products
Dia

(in)

Pres

(psi)

Vac

(in Hg)

Bend R

(in)

Wt/Ft

(lbs)

Lead Time

(days)

1/4
180.00
30
5.0
0.11
2
3/8
100.00
30
5.5
0.16
2
1/2
80.00
30
6.0
0.19
2
3/4
70.00
30
8.0
0.30
2
1
40.00
30
9.0
0.40
2
1 1/4
25.00
30
10.5
0.52
2
1 1/2
20.00
30
12.0
0.75
2
2
15.00
29
15.0
0.95
2
2 1/2
12.00
30
20.0
1.20
2
3
10.00
30
22.0
1.42
2
3 1/2
9.00
30
24.0
1.65
3
4
8.00
30
27.0
1.90
2
5
6.00
30
31.0
3.22
3
6
5.00
30
36.0
3.87
3
8
6.00
30
40.0
5.14
3
10
5.00
30
50.0
8.20
3
12
3.00
30
60.0
9.80
9
14
3.00
30
70.0
10.60
9
16
2.00
30
74.0
12.20
10
18
1.00
30
82.0
13.80
10
20
1.00
30
90.0
15.40
10
22
1.00
30
98.0
17.10
11
24
0.75
30
104.0
18.60
12