Overview: The Model SB3 is a quality corrugated stainless steel braided metal hose with an exceptionally high pressure rating. For standard SB3 Models, special double braiding is used up to and including 3 inch diameters, and special triple braiding is used above 3 inches. Also available above 3" with a special double braid (not listed below). Provided with special design 316SS inner hose. 1/4" to 12" diameters.
Features:
Very high pressures.

Available with a wide variety of carbon or stainless steel fittings that are welded to the hose.

Resistant to failure even under accidental exposure to flame.

Quite flexible and resistant to vibration.
Applications:
Very High Pressure Industrial Applications
Temperature: -320F to 1500F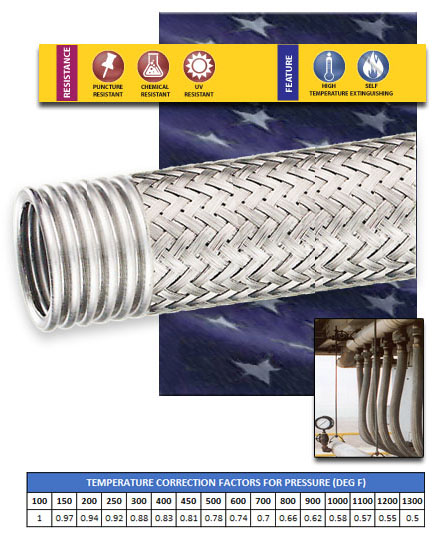 Price & Purchase Configurator not available
scroll to see more products
Dia

(in)

Pres

(psi)

Vac

(in Hg)

Bend R

(in)

Bend R - Dynamic

(in)

Wt/Ft

(lbs)

1/4
5320
29
1
5
0.40
3/8
3925
29
1 1/8
5 1/2
0.52
1/2
3680
29
1 1/2
7 1/2
0.76
3/4
3555
29
2 1/8
8 1/2
1.6
1
2810
29
2 3/4
10
2.0
1 1/4
2500
29
3 3/4
11 1/2
2.9
1 1/2
2220
29
5
13
3.6
2
1680
29
6 3/4
15
4.6
3
1475
29
9
21
7.3
4
1225
29
11 1/2
27
13.8
5
1200
29
14
32
16.8
6
950
29
17
37
22.2
8
875
29
22
46
34.4
10
750
29
26
56
45.4
12
525
29
32
62
50.4