OVERVIEW: The Hosecraft USA RU1-AS Pressure Washer Hoses are available in three grades/colors of gray, black, and blue, and are 3/8" diameters. Normally used on pressure wash machines with working pressures up to 4000psi and 5800psi.
These quality power wash hoses feature a unique cover compound, excellent for abrasion and ozone resistance. The synthetic rubber tubes are resistant to cold and hot water with usual cleaning agents. The hoses are reinforced with a braid of high tensile steel wire, and are coupled with Hydraulic 100R1 type crimping specifications.
Available in bulk, 50 ft, 100 ft, and custom lengths (contact factory).
15F to 310F temperature rating.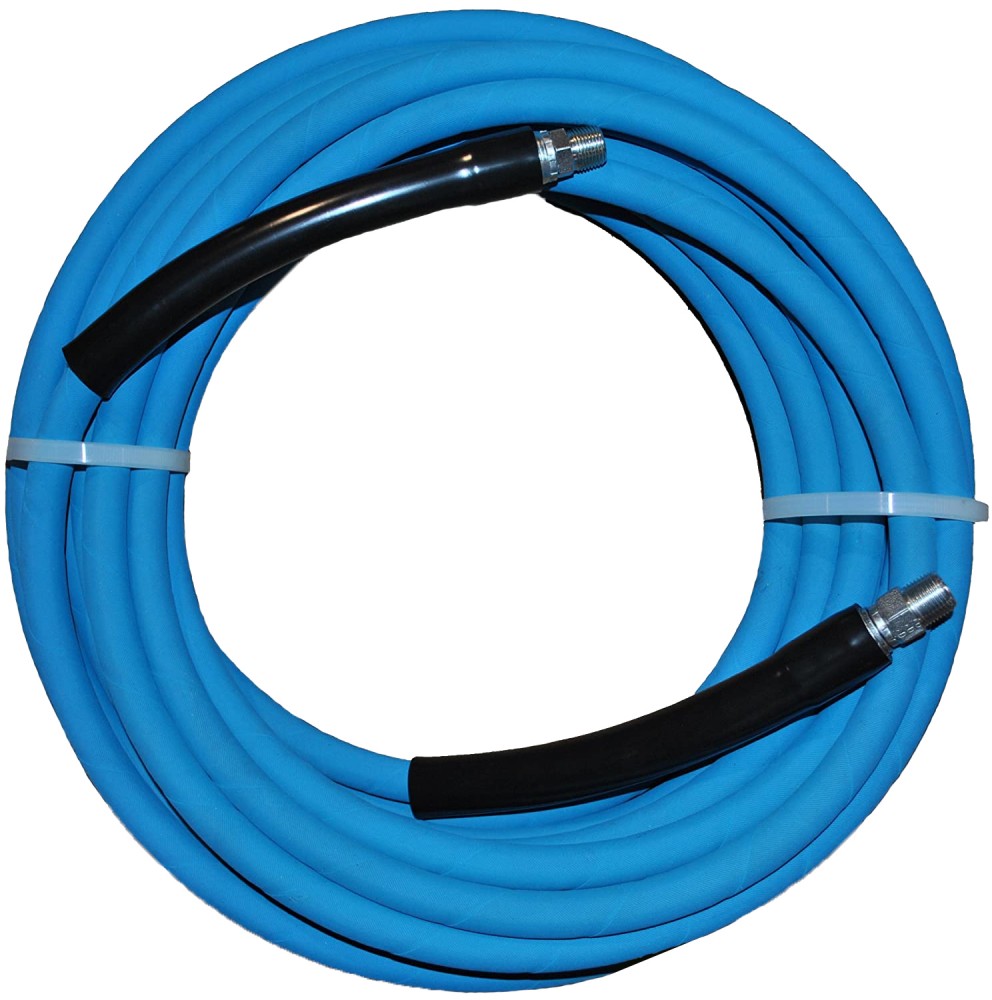 scroll to see more products
Dia

(in)

Lngth-ft

(ft)

Fittings
Pres

(psi)

Bend R

(in)

Wt

(lbs)

Note
Price

($)

Lead Time

(days)

3/8
100
MNPT X MNPT SWIVEL
4000
2.95
20
BLACK COVER, O/E WITH BEND RESTRICTOR
$127.00
2
Add to Cart
3/8
150
MNPT X MNPT SWIVEL
4000
2.95
29
BLACK COVER, O/E WITH BEND RESTRICTOR
$185.00
2
Add to Cart
3/8
50
MNPT X MNPT SWIVEL
4000
2.95
11
BLACK COVER, O/E WITH BEND RESTRICTOR
$67.00
2
Add to Cart
3/8
150
MNPT X MNPT SWIVEL
5800
3.50
45
BLACK COVER, O/E WITH BEND RESTRICTOR
$250.00
2
Add to Cart
3/8
100
MNPT X MNPT SWIVEL
5800
3.50
31
BLACK COVER, O/E WITH BEND RESTRICTOR
$170.00
2
Add to Cart
3/8
50
MNPT X MNPT SWIVEL
5800
3.50
16
BLACK COVER, O/E WITH BEND RESTRICTOR
$87.00
2
Add to Cart
3/8
50
MNPT X MNPT SWIVEL
4000
2.95
11
BLUE COVER, O/E WITH BEND RESTRICTOR
$77.00
2
Add to Cart
3/8
100
MNPT X MNPT SWIVEL
4000
2.95
20
BLUE COVER, O/E WITH BEND RESTRICTOR
$145.00
2
Add to Cart
3/8
150
MNPT X MNPT SWIVEL
4000
2.95
29
BLUE COVER, O/E WITH BEND RESTRICTOR
$213.00
2
Add to Cart
3/8
50
MNPT X MNPT SWIVEL
5800
3.50
16
BLUE COVER, O/E WITH BEND RESTRICTOR
$103.00
2
Add to Cart
3/8
100
MNPT X MNPT SWIVEL
5800
3.50
31
BLUE COVER, O/E WITH BEND RESTRICTOR
$195.00
2
Add to Cart
3/8
150
MNPT X MNPT SWIVEL
5800
3.50
45
BLUE COVER, O/E WITH BEND RESTRICTOR
$288.00
2
Add to Cart
3/8
50
MNPT X MNPT SWIVEL
4000
2.95
11
GRAY COVER, O/E WITH BEND RESTRICTOR
$80.00
2
Add to Cart
3/8
100
MNPT X MNPT SWIVEL
4000
2.95
20
GRAY COVER, O/E WITH BEND RESTRICTOR
$150.00
2
Add to Cart
3/8
150
MNPT X MNPT SWIVEL
4000
2.95
29
GRAY COVER, O/E WITH BEND RESTRICTOR
$221.00
2
Add to Cart
3/8
50
MNPT X MNPT SWIVEL
5800
3.50
16
GRAY COVER, O/E WITH BEND RESTRICTOR
$103.00
2
Add to Cart
3/8
100
MNPT X MNPT SWIVEL
5800
3.50
31
GRAY COVER, O/E WITH BEND RESTRICTOR
$195.00
2
Add to Cart
3/8
150
MNPT X MNPT SWIVEL
5800
3.50
45
GRAY COVER, O/E WITH BEND RESTRICTOR
$288.00
2
Add to Cart