Overview: RT3 is a quality steam cleaner hose assembly with crimped MNPT thread ends. It is available in 3/8" and 1/2" sizes, and in 25ft or 50ft lengths. Rated for 150psi for steam service, but also up to 3000psi for cold water service.
Also available in special lengths and fittings. Contact factory.
And see reels for these steam cleaner hoses at Pressure Wash & Spray Reels.
-20 to 350F for steam cleaning, -20 to 250F pressure washer service.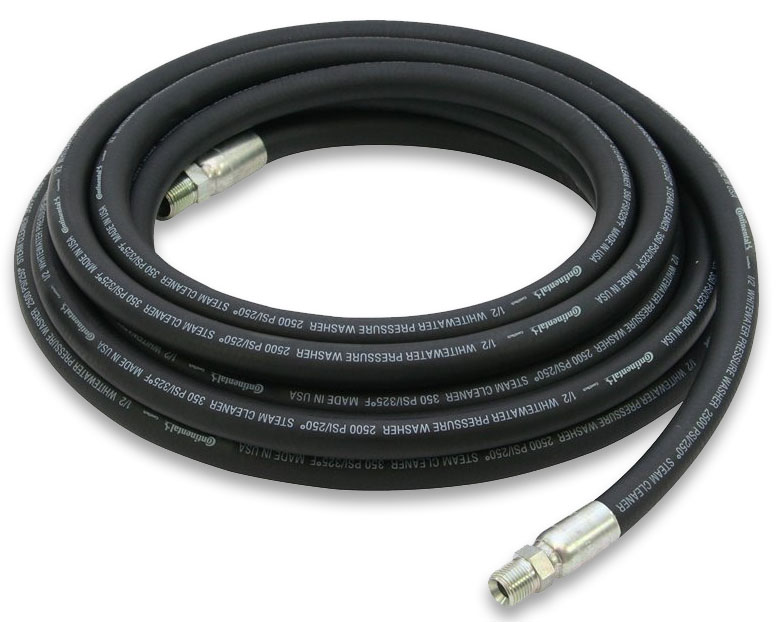 scroll to see more products
Dia

(in)

Lngth-ft

(ft)

Fittings
Pres

(psi)

Wt

(lbs)

Product No
Price

($)

Lead Time

(days)

3/8
25
C/S MNPT THREAD CRIMPED
150
8
HOSE-RT3AS250313
$207.00
3
Add to Cart
3/8
50
C/S MNPT THREAD CRIMPED
150
15
HOSE-RT3AS500313
$402.30
3
Add to Cart
1/2
25
C/S MNPT THREAD CRIMPED
150
11
HOSE-RT3AS250500
$302.40
3
Add to Cart
1/2
50
C/S MNPT THREAD CRIMPED
150
23
HOSE-RT3AS500500
$569.26
3
Add to Cart