OVERVIEW: RP5-AS hose assemblies are used for delivery of heating oil for fuel in residential, commercial, agricultural, and industrial service. Good for fuel oils, gasoline, kerosene, diesel, and bio-diesel. 1" to 1-1/2" diameters all at 250psi with a 4:1 safety factor with excellent flexibility.
It is abrasion, kink, and weather resistant, and has a Nitrile oil resistant tube, double braided pollyester cord reinforcement, and Dixon internally expanded brass Scovil fittings. The fittings are combinations of male NPT and female NPSH. Often cam & groove adapters are used with male x male NPT assemblies (aluminum acceptable, but brass also available).
The assemblies are available in 25ft increments from 100ft to 200ft, and can be purchased below. Also available in bulk. Contact factory.
Temperature range -40F to 180F.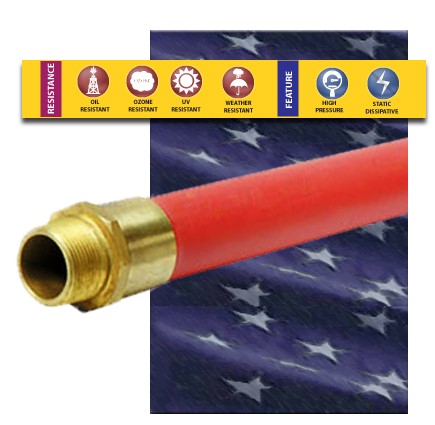 scroll to see more products
Dia

(in)

Lngth-ft

(ft)

Fittings
Pres

(psi)

Wt

(lbs)

Product No
Price

($)

Lead Time

(days)

1
100
BRASS MNPT X MNPT
250
65
HOSE-RP5-AS100MM0100
$1,215.00
3
Add to Cart
1
125
BRASS MNPT X MNPT
250
82
HOSE-RP5-AS125MM0100
$1,503.00
3
Add to Cart
1
150
BRASS MNPT X MNPT
250
98
HOSE-RP5-AS150MM0100
$1,786.50
3
Add to Cart
1
175
BRASS MNPT X MNPT
250
118
HOSE-RP5-AS175MM0100
$2,072.25
3
Add to Cart
1 1/4
100
BRASS MNPT X MNPT
250
87
HOSE-RP5-AS100MM0125
$1,372.50
3
Add to Cart
1 1/4
125
BRASS MNPT X MNPT
250
109
HOSE-RP5-AS125MM0125
$1,692.00
3
Add to Cart
1 1/4
150
BRASS MNPT X MNPT
250
131
HOSE-RP5-AS150MM0125
$2,007.00
3
Add to Cart
1 1/4
175
BRASS MNPT X MNPT
250
153
HOSE-RP5-AS175MM0125
$2,328.75
3
Add to Cart
1 3/8
100
BRASS MNPT X MNPT
250
87
HOSE-RP5-AS100MM0138
$1,395.00
3
Add to Cart
1 3/8
125
BRASS MNPT X MNPT
250
109
HOSE-RP5-AS125MM0138
$1,705.50
3
Add to Cart
1 3/8
150
BRASS MNPT X MNPT
250
131
HOSE-RP5-AS150MM0138
$2,022.75
3
Add to Cart
1 3/8
175
BRASS MNPT X MNPT
250
153
HOSE-RP5-AS175MM0138
$2,340.00
3
Add to Cart
1 1/2
100
BRASS MNPT X MNPT
250
112
HOSE-RP5-AS100MM0150
$1,777.50
3
Add to Cart
1 1/2
125
BRASS MNPT X MNPT
250
140
HOSE-RP5-AS125MM0150
$2,193.75
3
Add to Cart
1 1/2
150
BRASS MNPT X MNPT
250
168
HOSE-RP5-AS150MM0150
$2,598.75
3
Add to Cart
1 1/2
175
BRASS MNPT X MNPT
250
196
HOSE-RP5-AS175MM0150
$2,925.00
3
Add to Cart
1
100
BRASS MNPT X FEM NPSH
250
65
HOSE-RP5-AS100MF0100
$1,237.50
3
Add to Cart
1
125
BRASS MNPT X FEM NPSH
250
82
HOSE-RP5-AS125MF0100
$1,518.75
3
Add to Cart
1
150
BRASS MNPT X FEM NPSH
250
98
HOSE-RP5-AS150MF0100
$1,804.50
3
Add to Cart
1
175
BRASS MNPT X FEM NPSH
250
118
HOSE-RP5-AS175MF0100
$2,092.50
3
Add to Cart
1 1/4
100
BRASS MNPT X FEM NPSH
250
87
HOSE-RP5-AS100MF0125
$1,390.50
3
Add to Cart
1 1/4
125
BRASS MNPT X FEM NPSH
250
109
HOSE-RP5-AS125MF0125
$1,710.00
3
Add to Cart
1 1/4
150
BRASS MNPT X FEM NPSH
250
131
HOSE-RP5-AS150MF0125
$2,025.00
3
Add to Cart
1 1/4
175
BRASS MNPT X FEM NPSH
250
153
HOSE-RP5-AS175MF0125
$2,340.00
3
Add to Cart
1 3/8
100
BRASS MNPT X FEM NPSH
250
87
HOSE-RP5-AS100MF0138
$1,440.00
3
Add to Cart
1 3/8
125
BRASS MNPT X FEM NPSH
250
109
HOSE-RP5-AS125MF0138
$1,750.50
3
Add to Cart
1 3/8
150
BRASS MNPT X FEM NPSH
250
131
HOSE-RP5-AS150MF0138
$2,063.25
3
Add to Cart
1 3/8
175
BRASS MNPT X FEM NPSH
250
153
HOSE-RP5-AS175MF0138
$2,362.50
3
Add to Cart
1 1/2
100
BRASS MNPT X FEM NPSH
250
112
HOSE-RP5-AS100MF0150
$1,818.00
3
Add to Cart
1 1/2
125
BRASS MNPT X FEM NPSH
250
112
HOSE-RP5-AS125MF0150
$2,227.50
3
Add to Cart
1 1/2
150
BRASS MNPT X FEM NPSH
250
112
HOSE-RP5-AS150MF0150
$2,643.75
3
Add to Cart
1 1/2
175
BRASS MNPT X FEM NPSH
250
112
HOSE-RP5-AS175MF0150
$3,037.50
3
Add to Cart
1
100
BRASS FEM NPSH X FEM NPSH
250
65
HOSE-RP5-AS100MF0100
$1,237.50
3
Add to Cart
1
125
BRASS FEM NPSH X FEM NPSH
250
82
HOSE-RP5-AS125MF0100
$1,541.25
3
Add to Cart
1
150
BRASS FEM NPSH X FEM NPSH
250
98
HOSE-RP5-AS150MF0100
$1,827.00
3
Add to Cart
1
175
BRASS FEM NPSH X FEM NPSH
250
118
HOSE-RP5-AS175MF0100
$2,115.00
3
Add to Cart
1 1/4
100
BRASS FEM NPSH X FEM NPSH
250
87
HOSE-RP5-AS100MF0125
$1,219.50
3
Add to Cart
1 1/4
125
BRASS FEMNPSH X FEM NPSH
250
109
HOSE-RP5-AS125MF0125
$1,723.50
3
Add to Cart
1 1/4
150
BRASS FEM NPSH X FEM NPSH
250
131
HOSE-RP5-AS150MF0125
$2,043.00
3
Add to Cart
1 1/4
175
BRASS FEM NPSH X FEM NPSH
250
153
HOSE-RP5-AS175MF0125
$2,351.25
3
Add to Cart
1 3/8
100
BRASS FEM NPSH X FEM NPSH
250
87
HOSE-RP5-AS100MF0138
$1,473.75
3
Add to Cart
1 3/8
125
BRASS FEM NPSH X FEM NPSH
250
109
HOSE-RP5-AS125MF0138
$1,788.75
3
Add to Cart
1 3/8
150
BRASS FEM NPSH X FEM NPSH
250
131
HOSE-RP5-AS150MF0138
$2,101.50
3
Add to Cart
1 3/8
175
BRASS FEM NPSH X FEM NPSH
250
153
HOSE-RP5-AS175MF0138
$2,418.75
3
Add to Cart
1 1/2
100
BRASS FEM NPSH X FEM NPSH
250
112
HOSE-RP5-AS100MF0150
$1,856.25
3
Add to Cart
1 1/2
125
BRASS FEM NPSH X FEM NPSH
250
140
HOSE-RP5-AS125MF0150
$2,268.00
3
Add to Cart
1 1/2
150
BRASS FEM NPSH X FEM NPSH
250
168
HOSE-RP5-AS150MF0150
$2,452.50
3
Add to Cart
1 1/2
175
BRASS FEM NPSH X FEM NPSH
250
196
HOSE-RP5-AS175MF0150
$3,071.25
3
Add to Cart