Overview: The RD4 model is a ribbed yellow nitrile/PVC oil resistant discharge lay-flat hose. It is lighter and less bulky than most rubber discharge hoses, and resists abrasion and weathering. Used in many varied applications, with limited oil and chemical use. Resists kinking and stretching while in service. Available in 50ft increments.
Features:
Soft wall is similar to a lay-flat hose, but with increased abraision resistance and tensile strength.

Flattens when rolled up more compactly than other rubber discharge hoses

Top Grade Construction resists twisting for easier recoiling
Applications:
Rugged Industrial and Construction Discharge Applications where Suction is not Required

Water, as well as Limited Oil and Mild Chemicals

Irrigation, Agriculture, and Industrial Washdown
Temperature: -20F to 210F.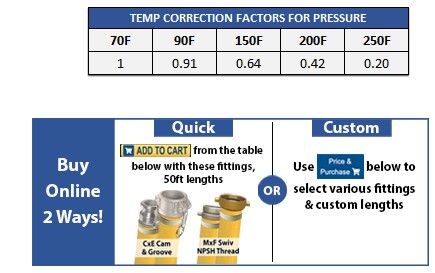 scroll to see more products
Dia

(in)

Lngth-ft

(ft)

Fittings
Pres

(psi)

Wt

(lbs)

Product No
Wt/Ft

(lbs)

Price

($)

Lead Time

(days)

1 1/2
50
M X F AL CAM & GRV
150
16
HOSE-RD4AS50CE0150
0.26
$283.34
2
Add to Cart
2
50
M X F AL CAM & GRV
150
21
HOSE-RD4AS50CE0200
0.35
$341.00
2
Add to Cart
2 1/2
50
M X F AL CAM & GRV
150
28
HOSE-RD4AS50CE0250
0.47
$397.80
2
Add to Cart
3
50
M X F AL CAM & GRV
150
37
HOSE-RD4AS50CE0300
0.65
$520.00
2
Add to Cart
4
50
M X F AL CAM & GRV
150
47
HOSE-RD4AS50CE0400
0.85
$761.20
2
Add to Cart