Overview: The Model RB1 Sand Blast Hose construction consists of thick plies of an abrasion resistant, static-conducting tube, with a black abrasion resistant cover. Used with OD mounted sand blast couplings.1/2" to 2" diameters.
Features:
Highly Abrasion Resistant

Static Conducting
Applications:
Conducting Sand, Shot or other Abrasives at High Velocity

Often in conjunction with Blasting, Cleaning or Finishing Stone, Metal, and Other Surfaces.
Temperature: 25F to 180F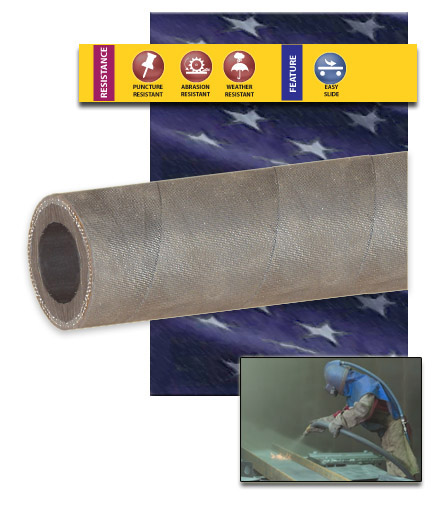 scroll to see more products
Dia

(in)

Outer Dia

(in)

Fittings
Pres

(psi)

Note
Product No
Wt/Ft

(lbs)

Price

($)

Lead Time

(days)

3/4
1.500
QUICK COUPLE X QUICK COUPLE
150
4-PLY
HOSE-RB1AS50QC0075
0.71
$512.00
5
1
1.875
QUICK COUPLE X QUICK COUPLE
150
4-PLY
HOSE-RB1AS50QC0100
0.93
$569.10
5
1 1/4
2.156
QUICK COUPLE X QUICK COUPLE
150
4-PLY
HOSE-RB1AS50QC0125
1.03
$621.50
5
1 1/2
2.375
QUICK COUPLE X QUICK COUPLE
150
4-PLY
HOSE-RB1AS50QC0150
1.23
$760.30
5
3/4
1.500
QUICK COUPLE X NOZZLE THRD
150
4 PLY
HOSE-RB1AS50QNT0075
0.71
$512.00
5
1
1.875
QUICK COUPLE X NOZZLE THRD
150
4-PLY
HOSE-RB1AS50QNT0100
0.93
$569.10
5
1 1/4
2.156
QUICK COUPLE X NOZZLE THRD
150
4-PLY
HOSE-RB1AS50QNT0125
1.03
$621.50
5
1 1/2
2.375
QUICK COUPLE X NOZZLE THRD
150
4-PLY
HOSE-RB1AS50QNT0150
1.23
$760.30
5