Overview: 100% rigid self-supporting gray PVC material with a ribbon-lock construction. Available in 25ft lengths that can be directly purchased below. Consult sales team for pricing & minimums on sizes over 8".
Features:
Diameter is adjustable by hand & can be reduced or expanded by approximately 25% of original I.D.

Chemical resistant

May be shaped & reshaped & spliced together without special tools.

Manufactured with flame retardant materials
Applications:
Excellent for either temporary or permanent installation for gases when self-support is important.
Temperature: -10F to 150F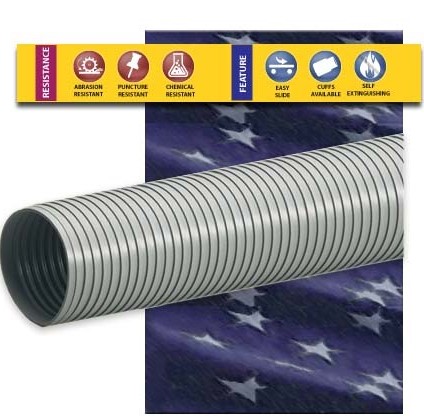 scroll to see more products
Dia

(in)

Outer Dia

(in)

Lngth-ft

(ft)

Pres

(psi)

Vac

(in Hg)

Bend R

(in)

Wt

(lbs)

Product No
Price

($)

Lead Time

(days)

2
2.25
25
2.5
6.600
5.5
9
HOSE-PI1-25-0200
$338.00
5
Add to Cart
2 1/2
2.75
25
2.5
6.600
6.3
11
HOSE-PI1-25-0250
$354.00
5
Add to Cart
3
3.25
25
2.5
6.617
7.5
14
HOSE-PI1-25-0300
$384.00
5
Add to Cart
3 1/2
3.75
25
2.5
6.617
8.3
15
HOSE-PI1-25-0350
$445.00
5
Add to Cart
4
4.25
25
2.5
6.617
9.0
19
HOSE-PI1-25-0400
$551.00
5
Add to Cart
4 1/2
4.75
25
2.5
6.617
9.8
22
HOSE-PI1-25-0450
$635.00
5
Add to Cart
5
5.25
25
2.5
5.882
11.0
25
HOSE-PI1-25-0500
$705.00
5
Add to Cart
6
6.25
25
2.5
4.411
12.5
30
HOSE-PI1-25-0600
$884.00
5
Add to Cart
8
8.25
10
2.0
3.676
17.0
17
HOSE-PI1-10-0800
$561.00
5
Add to Cart