OVERVIEW: The Latch-Lock Fittings are for use with our duct/exhaust hoses to provide a solid method of connection. These spring-clipped connections provide the most secure connection possible for these hoses. These Latch-Lock fittings are galvanized steel.
Use the appropriate bridge clamp or other clamp to fasten the fitting to the hose.
Sold in fitting pairs. Contact the factory if you would like this assembled with your duct hose choice.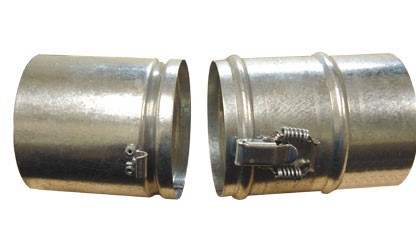 scroll to see more products
NAME
TYPE
DIA

(in)

WT

(lbs)

P/N
PRICE

($)

4IN LATCH LOCK FITTING PAIR
PAIR
4
1
HOSEFITTING-LLK-0400
$106.12
Add to Cart
6IN LATCH LOCK FITTING PAIR
PAIR
6
3
HOSEFITTING-LLK-0600
$115.35
Add to Cart
8IN LATCH LOCK FITTING PAIR
PAIR
8
5
HOSEFITTING-LLK-0800
$124.87
Add to Cart
10IN LATCH LOCK FITTING PAIR
PAIR
10
6
HOSEFITTING-LLK-1000
$134.26
Add to Cart
12IN LATCH LOCK FITTING PAIR
PAIR
12
7
HOSEFITTING-LLK-1200
$143.63
Add to Cart